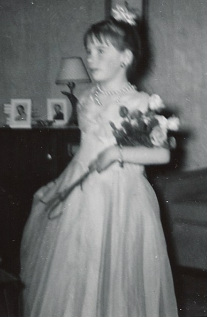 Today I'm going to try something different - the backstory of a character in my novel. She's six - the same age I am in this picture, and lives in France, 1073 A.D. I'm experimenting with her voice here.
*
"Jeanne," Mamman calls. "Come sit beside me."
Papa is there. too, and they are both smiling, which reassures me. Maman never sits down in the middle of the day, let alone suggest I do, too.

I run over and climb onto the wooden bench beside her.
She looks at Pappa. "You tell her," he says.

"Jeanne, today you are six years old," Maman begins, "old enough to have your future settled."

She looks at me expectantly. "Umm," I say, noncommittal.

"Some very good fortune has come your way," Papa says, smiling broadly. Papa loves me best, after Maman. I grin back at him.

"You are going to be engaged. To the son of a landowner." Maman says this as though she does not believe it.

I look at Papa. Even I know we could never afford such a dowry. But he nods. "Do you remember the Lord and Lady who took Symon to apprentice with their stablemaster? They arranged it."

"Symon saved the Lady's life," I say, remembering the story of my brother Symon stopping her runaway horse. But they have already rewarded him. Why would they do this for me? When I ask, Papa and Maman look at each other quickly, the way they do when they have a secret.

"Never mind that," Papa says. "Be happy now."

Papa trades for some yellow silk, which Maman sews intro a beautiful dress for my betrothal party, and some fine green and blue cotton, because I can't wear the same dress every day. I've never seen anything so beautiful as my new dresses.

Tomorrow we will travel all day to meet my intended. I wish Maman and Gilles could come with us, but even if they could leave the chickens and the garden and the house untended, how would Papa ever buy clothes for them, too?

I kiss Maman goodbye, and suddenly I'm clinging to her, afraid to leave her. When will I see her again?

"There, there, Jeanne," she says. "You will be happy, and you will learn so much. There is nothing to fear. They will be kind to you. Who could not love you?"

"Jeanne," Papa says. "You must be happy."

Maman pulls my arms from her neck and stands up. I wipe my face and make myself smile. I am too old to need my Maman. I am old enough to be betrothed.

"I will be happy, Papa," I promise. He lifts me onto the donkey's back. It is very hard not to look back at Maman and our house as we leave. I sit very straight on the donkey, and think about my new dresses.