Sweet Sixteen. And It was a sweet year! Sixteen was the year I found the love of my life: travel!

Okay, maybe just ONE of the loves of my life, but certainly an abiding one. My first solo trip was a summer student exchange trip to Quebec. I'd been studying French for three years in school, and thought I was prepared. Trouble was, we learned the pronunciation of Parisian French in school, not the accent and idioms of rural Quebec, where I was headed.

My train stopped at a tiny station late at night to let me off. Most of the other exchange students had left at Montreal and other cities and large towns along the way. My French exchange student, Lise, and her parents greeted me. Nervous? Nope, I was terrified. They barely spoke English; I barely spoke French. I followed them into their car and we drove, mostly in silence after a few clumsy and ineffective attempts to communicate, for an hour, further and further into the dark and isolated countryside. That was my fault: I had asked to be placed on a farm.

When we arrived at their house, it was midnight. They offered me a drink before going to bed. Unfortunately, they offered it in Quebecois: "Est-ce que tu veux une liqueur?" I got the 'Do you want' part, but the last word threw me. Shocked, I stammered, "Je ne suis pas Veingt-et-un!" They laughed heartily. 21 was the legal drinking age then, so it was obvious what I thought they had offered me. Lise's Mere, wiping tears of mirth from her eyes, got out a can of pop and said, "de liqueur."

We went to bed, and the next morning I woke up with a terrible case of culture shock. Everyone gets it once, like chicken pox, then you're immune. I lay there in bed paralyzed with fear. I was adrift on my own, surrounded by complete strangers and I couldn't understand a word they said, and they couldn't understand me. It took every ounce of courage I could muster to get out of that bed and go downstairs to meet them.

And after that, it was fine. They were good people, and Lise and I became great friends, and still are. We developed a kind of Frenglish between us that seemed to work. I have never experienced culture shock again.
Here we are, that summer we were 16 together.
At then, in an embarassment of riches, Mom and I went to England that same summer! With all my older siblings out of university and independently settled, Mom could finally pursue her own life-long dream - to meet the English relatives and see the beloved places she had grown up hearing about.

My Grandmother was a WWI war bride. She nursed my Grandpa back to health when he was wounded, and married him to keep him that way. She never quite adapted to 'the colonies' and missed her home, I think, all her life. She got back once, when my Mom was a teenager, but that was a financial stretch that couldn't be repeated.

When Mom was planning her trip, she told Grandma about it when we were visiting her, and asked Grandma if she wanted to come with us. I'll never forget my Grandma's answer: "Phyllis, I've said goodbye to my family twice now, each time believing I'd never see them again. i can't do it again." I think that comment, and the force with which it hit me, is why, for all my love of travel, I've never settled far from home. Home is the place you come back to, and home is always your people.

That trip to England was WONDERFUL. My English relatives were welcoming and funny and, in three short weeks, the distant genetic connection became a huge emotional connection. Every day I woke feeling like it was Christmas, with something new to see and do. The best day was when my second cousin, three years older than me, and his friend, took me around London. A whole day without adults - not that I didn't love them, but I was inundated with them - what a relief!

I said goodbye to these new family members I'd come to love, believing I'd never see them again - and cried all the way home on the airplane.

(I did, however, see them again many times. Any time I hop the pond, I check in on them before exploring other parts of Europe. Furthermore, I married an English Immigrant, and his Geordie relatives have become family, too, which also draws us back when possible.)

And finally, as if that weren't enough for one year, I became an Aunt (and a Godmother)! Here I am with my sister's child, Staci. The following year, my brother Peter and Jan had a baby boy, Michael. I adored them from day one, and all my other nieces and nephews as they made their entrance. Love just keeps on growing!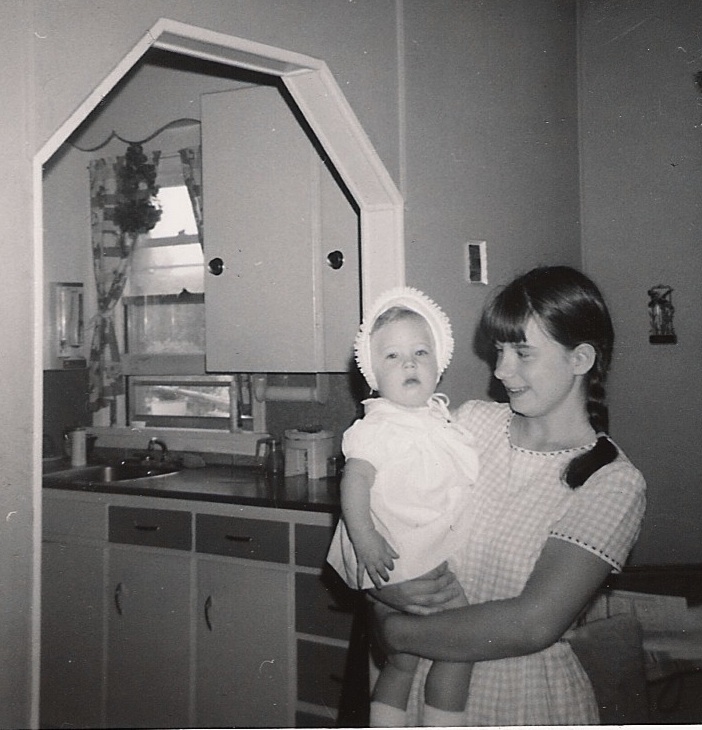 What an awesome year!