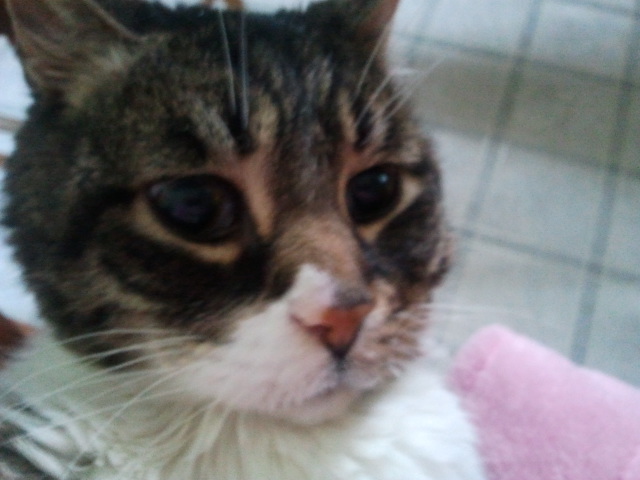 My house has changed. The spot of sunlight that pools in the morning on the rug in front of the window is just an empty square of light. The small, folded towel is gone from the hallway where the sun falls through the side door window in the afternoon. The door to the formal living room is left open during the day now; the door to the mudroom where he slept is open during the night.

No one cries for milk when I open the fridge, or sits on my feet at the table hoping for scraps, or waits at the door to the family room in the evening to lie in the curl of my knees as I read or watch TV.

I have a friend who is battling cancer; her children are still in elementary school. I have another friend whose daughter-in-law is in hospital while her 1-pound son, born 4 months early, fights for his life. The death of a 21-year-old cat who lived a very long, very happy life, is not in any sense a tragedy. I am well aware of this.

And he was a nuisance. When he was younger, he jumped on the counter and table top to scarf up any food we left lying out. He learned to open cupboard doors; we had to tie them shut by the handles. When he got too old for such shenanigans, his normal sociable behaviour turned obsessive. He wanted to be near us all the time. Instead of merely running to the door with a welcoming meow when we got home, he wailed whenever we left the room - a long, plaintive cry that sounded remarkably like "I'm all alo-o-one!" I'd poke my head around the door to the computer alcove and yell, "You are not, you stupid cat!" But since he was deaf and partially blind, he'd just keep wailing, "I'm all alo-o-one!" until I gave in and went to pat him. He lay on my feet at the table, the computer, any time I paused long enough for him to lie down. He was always there.

After 21 years, every corner of this house is filled with his absence, the rooms echo with the silence of a throaty purr - and a demanding meow - which I will never hear again. He was just a cat. The world is filled with greater sorrows. But who would believe a house could change so much?

Oh, how I loved that cat.