CONNECTIONS: PARABLES FOR TODAY

CONNECTIONS: Parables for Today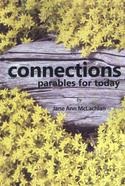 A collection of ten short stories, each followed by reflections, Bible quotations appropriate to the theme of the story, and discussion questions.

"Connections is a brilliant series of stories that help us to stay aligned with our neighbour. Jane Ann brings wonderful insights into human nature and guides us through our responses in a way that can reorient our lives. A perfect resource for small group study or personal reflection." —Tom Brook, Director, Canadian Lutheran World Relief

"Connections is an outstanding, thought-provoking resource for study groups and for personal meditation. Through these ten stories, Jane Ann opens a window to the diversity of human life, and the accompanying discussion material deepens the readers' understanding of themselves, the people around them, and the Bible excerpts that accompany each of the stories." —Rev. Riitta Hepomaki, Assistant to the Bishop, Eastern Synod of the ELCIC

Read the first half of The Coach, one of the stories in this collection, below.

---
THE COACH
There were blood stars along the water's edge, fourteen of them: one for every boy that died. I don't know if I saw them when I went back later or if I dreamed them, but they're real to me, red and cold and pulsing, a cross between a warm-water starfish and a human heart. The sight follows me however far I run, the way the unforgiving night sky follows you. But these shine for me alone; these are the stars in my own personal hell. I carry them with me not only in my mind, but on my face. I was branded that night with a permanent scar across my forehead, in the shape of a blood star.

I was exonerated at the inquest. Outside the courtroom one of the parents, her fingers on my arm as hot as a second branding, murmured, "You did your best. You saved two of them." Her voice broke. She turned away. I made it to the nearest washroom and threw up until my legs buckled and I fell to the floor.

I left Vancouver that night. Drank my way across the country as far as Montreal.

#

"Public drunkenness. Assault. You 'it a bouncer." Judge Ferron shook her head, glancing up from the police report in front of her to where I slouched before her bench. I shifted, but it was too much effort to straighten up.

She lifted the report and perused a second document. "You 'ave been to jail for dis already." Her voice was sharp, the Quebecois accent at odds with her precise English grammar.

"Yes, Your Honour," I mumbled.

"Where?"

"Toronto."

She waited.

"Thunder Bay. Winnipeg. Regina. Calgary." Vancouver. I thought it but I couldn't say it. My left hand reached up to the star-shaped scar just below my hairline and rubbed it, a habit I'd acquired over the past two years.

I looked up, caught the Judge watching me, and shoved my hands back down into my jeans pockets.

"You are making a cross-country tour of Canadian jails?" She pronounced it in the French way, Canadien. It sounded strange in the midst of dry, English sarcasm. "Is dis 'ow you mean to do the rest of your life?" she demanded.

I looked up at her. Slowly I blinked. The casualness of it took all I had. I wanted to howl at the sound of those words, the rest of your life. I wanted to bury them under a long drink of whisky, then throw a punch at someone and let him beat the crap out of me. Beat me to death, if I was lucky.

"Eh bien. You 'ave passed a night in our jail, also. I observe it 'as done you no good."

"No harm, either," I mumbled.

Judge Ferron frowned. She picked up a second paper and studied it a moment. "Community Service," she said, and rattled off something in French to my guard. By the time I realized she had pronounced my sentence, he was already escorting me out of the court room.

Community service? I felt simultaneously the urge to laugh and to throw up. I closed my lips tight, not sure which would come out.

"You understand, oui?" The guard looked at me closely, a conflicting mixture of disgust and compassion in his brown eyes. I forced out a long, foul belch to simplify his choice.

"'ere is de projects," he said, shoving into my hands a piece of paper a clerk had given him. "You can to choose. One year. You quit Montreal, we will put a bulletin. You will be return 'ere to finish one year. It will be a 'umiliation, no? Better to stay." He opened the door, eager now to see the end of me. "You can to rest at the YMCA, Boulevarde Rene Levesque. The soup is 'ot, the mattress are clean." That last was his single concession to his better nature. I wanted none of it.

Still, it was a court order. Old habits stuck. I looked down at the paper he'd given me. "I'll need a telephone."

I intended to take park clean-up or janitorial work for some charity, but neither would have me. It seemed I'd be bad for their image. Waterfront projects were out. The very thought of the St. Lawrence circling Montreal like a cobra left me shaking. I knew there'd be blood stars beside the river. Never mind that there weren't any this far inland, I'd see them there.

Halfway down the list I was feeling frustrated, but also somewhat vindicated. My self-assessment was correct: I was garbage. Just another drunken vagrant. Judge Ferron was deluded in imagining any good could come from me.

That was when I came to "Brother Jean's Team Sports".

When I remembered to breathe again, I gave a shaky laugh. That one'll never take me, I thought. By then I'd been turned down by so many it was getting to be a joke. Some perverse urge to torment myself made me call anyway; or maybe I just wanted to hear myself rejected from this one especially.

Brother Jean accepted me on the spot.

"You can't take me." Even I could hear the edge to my voice. "I can't work with kids."

"Why not?"

"If you saw me, you'd know." I caught myself rubbing my scar and stopped.

"Have a police check done and call me back."

"They've done one," I said, bitterly. "Judge Ferron has it." That was the second paper on her desk. She knew my past. She'd probably known Brother Jean would take me, and she also must have guessed I'd rather have gone to jail.

"Come on over," Brother Jean said. He gave me an address, somewhere down in "Little Burgundy", as if that should mean something to me. The line went dead.

I was fuming mad. I'd been set up, but what could I do? If I didn't show, Brother Jean would call the Judge. Better to go myself than be dragged down there like some rebellious teenager.

That afternoon I walked through the meanest section of Montreal. The houses were narrow and run down, with peeling paint and sagging porches of rotting wood. Occasionally a suspicious face peered out through a dirty window. A kerchiefed woman layered in black hurried past me, muttering foreign invectives. Three black young toughs stopped following her to stare at me sullenly as I passed. I ignored them and kept walking. At last I saw a small stone rectory. One of its windows was broken. I got no response from the bell so I knocked on the heavy wooden door.

Brother Jean opened the rectory door and looked me over. He nodded, as though I'd passed some test just by getting here. I looked down to avoid nodding back and saw a line of pepper across the threshold.

Brother Jean noticed my glance. "The blackened soul of the last man who crossed this threshold with dire intent," he intoned.

I looked up slowly, past the confident stance of youth, the well-fed belly, the silly grin, the unlined face of moral certainty. I looked up into clear blue eyes that had never despaired.

I hated Brother Jean at that moment. Thinks he's Saint Jean, not Brother Jean, I thought. Later I learned that that half of Montreal agreed with that assessment, which didn't improve him any in my opinion. Oh, he does good works—I imagine him adding them up behind his smile, while he listens to other people's sins. Not mine. I take my own accounting of my sins.

Still, in a perverse way, it felt good to be angry. First time in quite a while I'd felt any emotion directed toward someone else. Yeah, anger at someone else, let alone two of them, kind of felt social after where I'd been for the past two years. Didn't take me long to see through it, though, and realize that what I was really feeling was fear, good old plain terror, always there when I needed it. It wasn't Brother Jean or Judge Ferron that had me shaking in my shoes. It was the thought of those kids.

"You ever play baseball?" Brother Jean asked.

"Some."

"Ever worked with kids?"

"Some."

"Think you could coach?"

"No."

He laughed. "I'll make sure your team plays against mine. You've showed up at a good time. Season's starting and we're surprisingly short of volunteers." He laughed again. I didn't join in but I got it. This part of the city wouldn't produce many volunteers.

"Don't worry about the coaching. We just want to give these boys something to do on Saturdays. Keep them safe, off the street. Just let them have some good, clean fun." He reached to shake my hand. I stared at him. He shrugged. "Come around Saturday morning, nine o'clock. Where're you staying?"

"The Y," I said, turning to leave before he could invite me across his threshold.

#

The few parents who brought their kids frowned at me, suspicious. I kept to myself, making no effort to win them over. Let Brother Jean greet them. They were right not to want me near their kids.

Most of the boys wandered onto the field beside the rectory on their own. They were wary and tough, the children of prostitutes and addicts and people too worn down by poverty to care any more. Their parents didn't know the names of their teachers, let alone the Saturday morning baseball coach. Didn't know and didn't care. The kids didn't care much either. They looked me over and sneered. I was just like them, and they knew it.

That helped. It was impossible to confuse these cynical, knowing faces with those others, and the fact that the parents suffered me only for the sake of Brother Jean helped, too. At least they expected nothing good from me. Nothing I could betray.

Brother Jean sorted the boys out. When he was done, I had eight slouching around me.

"You have fifteen, but they won't all come," he said. "You're Red team. Here are their names." He proffered me a sheet of paper.

I didn't take it. "They'll remember," I said, meaning, They'll remember their team. I couldn't say the word yet. "I don't do names," I finished instead. I turned and walked to the far end of the field. The boys trailed after me.

They needed baths and haircuts and decent clothes and even then they wouldn't come up pretty. The way they looked at each other, seeking weaknesses, cooled my blood. A couple of them fingered knives as they waited out my inspection and I saw dried blood on one of the blades. I didn't ask if it was human or animal; these boys wouldn't know there was a difference. Ten, eleven, twelve years old and already they were as cold and merciless as the streets they ran on. One boy had a wizened burn marked on his cheek; another, a broad white line just above his eyebrow. The lid below it drooped, giving that eye a sleepy look which the other, wide and fierce, repudiated.

I stopped looking then. I didn't want to know what had been done to them, or guess what they might have done in retaliation.

I took a deep breath. And I decided to teach them baseball. I still don't know why. Maybe just to spite Brother Jean. I wouldn't fail for him; I only did that for myself.

"I don't know what you think you know about baseball," I said. "But forget it. We're starting at zero. You'll learn it my way, and you'll play it my way, hard and fair. And that's how you'll win: hard and fair." I looked at them, one by one. "If that doesn't suit you, don't bother coming."

One of the boys started to walk away. When I didn't call him back he turned and glared at me. I shrugged.

"Brother Jean says winning doesn't matter."

I looked at the boy, at the curl of his lip as he said it, at his narrowed eyes, watching me. I looked straight into those eyes, saying nothing, until his expression changed.

"I'll tell you what matters," I said then.

I knew what my face looked like by the way his eyes widened. He took a step backward, his right hand sneaking down to his pocket. Those near him shifted sideways. It was each man for himself in this group.

"Your team matters," I said.

The words fell like broken glass from my mouth. The boys stood so still I could hear them breathe. Their eyes were riveted on me, sensing blood, not knowing its source.

"Look at each other," I told them when I could speak again. They glanced sideways, not turning their heads, tensed.

"Look!"

They shifted, looking quickly at each other, their eyes darting back to me.

"Don't let me hear a word of blame between you. Or a threat, or a curse, at each other. Ever. I'll do the criticizing, and I'll do plenty, until you shape up. You'll have to earn the right to play this game, and it won't be easy."

I wanted a drink badly. I grit my teeth against it. "Those are the rules. You don't like 'em, leave now."

None of them left. The boy who'd started to earlier, sauntered back. I wanted to tell them all to get lost, but Brother Jean was watching, I saw him out of the corner of my eye. So I set them to practicing pitching and catching. Not one of them complained, even though Brother Jean's team was having a pick-up game.

The next week I added batting to the practice. By the end of the morning I could see where their strengths and weaknesses lay: who could hit, who could catch, who could run. The following week I had them coaching each other as they practiced.

"When can we play a game?" the kid with the burned cheek said after an hour.

"When you're ready," one of the bigger boys snarled.

"You!" I glared at the older boy. "You don't talk to your teammate that way."

He looked at me, surprised and angry. I stared him down.

"What d'ya want me ta say?"

"You tell him he's a good pitcher. He is."

I could see him weighing the price against just quitting, but at last he muttered, "Good pitcher."

"And you," I said, turning on the other kid, "You'll play a game when you're ready."

Brother Jean kept out of it, but I saw him watching my side of the field, looking worried. By the fourth week the other priest, the third coach, went over to speak to Brother Jean. At the end of the day, Brother Jean announced that the teams would start playing each other the next week.

"Play hard and fair," I told them before the first game. "Remember who you are."

They looked puzzled for a moment, then the kid with the droopy eye grinned. "We're Red Team," he said.

The field beside the rectory became a battleground, despite the best efforts of the two priests. Kids slammed into each other at the bases, the pitchers wielded their balls like weapons and I could see why Brother Jean had only one bat and kept a close eye on whoever held it. The smaller boys didn't even try to stop the bigger ones from stealing a base. I watched my first baseman deliberately fumble a ball until a mean-looking kid twice his size was safe on his base.

Before the second game I told my players they'd be off Red Team if that happened again. As a result, Red's smallest boy got beaten up by three of Brother Jean's. We pulled them apart and Brother Jean suggested a recess while we talked to our boys about it.

"Good for you, kid," I said to my bruised and bloody-nosed player, when Brother Jean had taken his boys aside. "Go wash up." He headed for the outdoor sink against the side of the rectory.

"He has more guts and team spirit than all the rest of you put together," I said while he was gone.

"Yeah, and he got beat up," Burn-face sneered.

I looked at the boys, each one in turn, making them see the sorry lot they were.

"He thought he had a team behind him," I said slowly, "and by the next game, he better be right." I waited till I was sure they got the message, then I added, "And any of you lot hit a kid on another team during a game, you better never show your face to me again."

We waited in silence for Brother Jean to come back and the game to resume. When it did, I made the three biggest kids on Red team sit out the whole afternoon. They glared at me for a while, then, when they saw I didn't care, they shifted their attention to the kids who beat up their teammate. Brother Jean had given the three a penalty, but they were back in the game now. My three sat and watched them. Steadily. The entire rest of the game.

No one on Red Team ever got beat up again.

(Read the rest of this story in CONNECTIONS: Parables for Today.)



Reflections on Story: Why Are We Drawn to It?
Ever wonder why infants and toddlers learn so much so easily, while adults struggle with new learning? As a baby boomer amassing technological skills with the speed of a bug while my granddaughter masters crawling, walking, language and yes, technology, with the rush of a racehorse pounding out of the gate, I have wondered about that. With all the practice I've had, with all the learning- and problem-solving-theory I know, why is she the one for whom it is easy?
According to Dr. Norman Doidge, in his book,
The Brain That Changes Itself,
in infancy and early childhood, human brains are always "on". During this "critical period" we are fully paying attention—to everything, because children don't know what learning may be important. Children are hard-wired to learn everything they can, as fast as they can, in order to increase their chances of survival. As adults, we have to force ourselves to pay attention, and to keep paying attention, in order to learn something new.
Lisa Cron, author of the new book
Wired for Story
, applies neuroscience to writing—or, to be more precise, to storytelling. According to her, we are hard-wired to pay attention to story because that's how we learn. It's a survival mechanism. Humans learn how to solve problems—from caveman days to the present—by listening to tales of how others have solved similar problems. When we read a story about someone solving an urgent, emotionally-charged problem, our brain tells us to pay attention. How? By delivering a rush of dopamine, the brain's neural pleasure transmitter.
The neuromessage is: people pay attention to story in order to learn how to solve problems. Not to visit exotic places or meet intriguing characters or marvel at brilliant turns of phrase, although it's nice when all that happens too.
The science may be new, but the concept of story as a powerful teaching tool isn't. From ancient Greek myths to medieval morality plays to modern novels, story has been used to promote social change, package a message about the meaning of life, increase understanding between people, see something in a new way.
According to neuroscience, the older we get, the harder it is to force our brains to pay attention.
Apparently, story can do that. Story's the sugar that coaxes us to swallow truth. Story lets us slip inside other people's lives and share their problems and anticipate their success. Story increases our understanding.
There is nothing else. Nothing else we need to do, nothing better we can aspire to: Just understand. Our brains know that.
Further articles on this topic by Lisa Cron:
Why Are We Wired For Story?
The Rules of Story