HISTORICAL FICTION

What if you could sell your sorrow for someone else to bear? Would you do it?
If you like realistic medieval fiction with evocative prose, compelling characters and a unique story, you'll love this incredible journey into the south of France in the 12th Century, based on an actual medieval belief.
Buy The Sorrow Stone and begin your journey today.
Read the first chapter of this medieval tale below: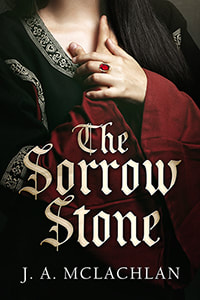 THE SORROW STONE
CHAPTER I , Excerpt

At first he did not know it was a human being. She lay crumpled on the ground like a bundle of dirty rags tossed aside by some trader. Even when Jean was close enough to see the tangled black hair, the small, bare hand, his inclination was to hurry by. A corpse could pass on the terrible fever that had demoralized this village.

Jean had wasted his time stopping at Sainte-Blandine-de-Lugdunum. The few villagers who came to market were silent and glum, barely talking to one another let alone to a spice peddler from some distant town. He had sold one pair of woolen hose and two denier's worth of salt all morning; barely enough to pay for his dinner and lodgings, let alone feed his family through the winter. The plague had run its course by now; otherwise Jean would have sold some of his side items: pilgrims' badges and handkerchiefs blessed at the holy shrines of Santiago and Jerusalem. People will give up their last denier when death grins at their windows. Now, if he had been here a few weeks earlier…

He shook his head, glancing at the inert form lying beside the road ahead of him. He had known a priest who took his holy pardons into towns where illness raged. The traders called him 'Reaper', but it was the last of their coins he went in for, not their souls. And what good did it do him? He handed all the profits to the church. The man was a fool. His body was found lying beside the road like this woman's, his money pouch as heavy as a drunk's bladder and the agony of his final convulsions frozen on his face.

Jean would not tempt such a death. He survived by his wits, never forgetting that Death, with his sickle sharpened, followed in a man's shadow waiting for a momentary slip. He did not want to die on the road. It was Mathilde's secret fear, he knew: that she would never know what had happened to him. And what if he did not die? What if he carried the fever home with him...

He pulled roughly on the halter of his donkey, as though the creature were to blame for his turn of mind. The animal accommodated its owner's mood sullenly, ears angled backward, rolling its eyes at each jerk of the halter. Two heavy wooden barrels hung behind the bulging woven panniers strapped across its back. Several large, rough wadmal bags were tied in front of them. Despite being tightly sealed, the barrels emitted tantalizing scents. The pleasant aromas did not mollify Jean. If his donkey's load were lighter and the money pouch at his waist heavier, he would be in better humour now. He quickened his step, leading the donkey as far from the dead woman as the narrow dirt track allowed. It was not his place to attend to their dead.

He was nearly past her when she looked up.


(End of Excerpt)


---